Yesterday you got read about how Sparky has a love affair with tools (well a love affair to me
) and you got to read about what he thought of the Trojan Tools.  Today you will see this love affair continue, however on a whole new level, with the ultimate of tools, power tools! Hear the roar now! Again we have various and many  power tools in the garage but just like shoes for women, it seems a man can never have enough power tools!
Sparky was pretty excited, in his man way
, about getting the new Dremel Saw-Max to try out. It was a power tool he didn't have and doesn't have another power tool that does a similar job, so Sparky could see the potential of his new power tool straight away, and had some jobs already in mind to use it on!
The Dremel Saw-Max is designed for small jobs around the house and is ideal for the home handy man , as it is easy to use and master.
It comes with 4 blades that are made for
cutting wood,
drywall,
metal,
concrete,
pvc,
tiles
and masonry.
A wide variety of jobs can be tackled with the one power tool, which means it is not only good value for money but does the job of several power tools.
It also comes with a handy instruction book that has a handy place to be stored, the excellent idea of a handy vacuum adapter and an excellent strong storage case that makes it easy to keep everything in tip top condition and in one place.
Sparky has used it on quite a few jobs  since he received it and has been really impressed. He used it to cut a plastic cable cover and small bits of timber from under the stairs. You can see him at work below. The two images to the right are additional images from Dremel, showing you what the other blades can be used for.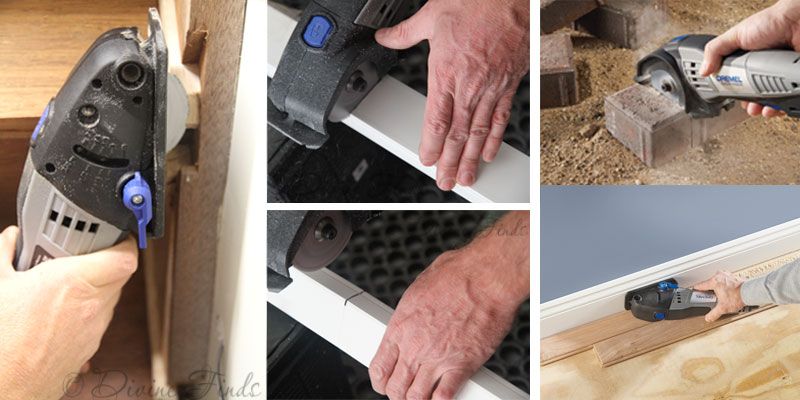 Here is Sparky's thoughts on the Dremel Saw-Max…
Excellent for small jobs, that are in hard to reach places
It can reach these small places while still cutting accurately and precisely
It is easy and safe to use
Cuts smoothly with no jumping
It is easy and comfortable to hold with good grip
Easy to change the blades and as you are using them on small jobs they will last a long time
Ideal for small jobs like fixing tiles, cutting fencing mesh, cutting PVC piping etc
It is powerful and would be a good power tool for the home handy man to use
Sparky said he would be more than happy to wake up Father's Day with this being given to him (not too much of a surprise really)
and thinks any power tool loving person would find this a handy addition to their collection. You can find the Dremel Saw-Max at any good tool retailers and I am sure there will be plenty of tool catalogues in the mail at the moment to help find it!
(THIS GIVEAWAY IS NOW CLOSED)
Disclosure: This is not a sponsored post and no monetary compensation was provided nor offered. The products as mentioned in the review, were supplied and all views, opinions and impressions of the review items are my own based on my personal experience with the product.