In our Celebrating Dad Event we have prizes to get Dad cooking up a storm and getting handy around the house. Today is the chance for Dad to sit down with his personalised mug (that is also up for grabs) and put his feet up after all that hard work!
Most men love a good DVD! and Universal have released some fantastic ones lately including Billy Connolly's Route 66, Justified and The Office Season 7. DVDs are the super simple and easy gift idea that is perfect for Father's Day or that man in your life!
If Dad has a little bit of the travel bug, he will be sure to enjoy Billy Connolly's Route 66. Recently airing on TV, the DVD series allows you or the man in your life to relive the adventures and antics of course, of the comedian Billy Connolly, as he tears up the famous America Route 66.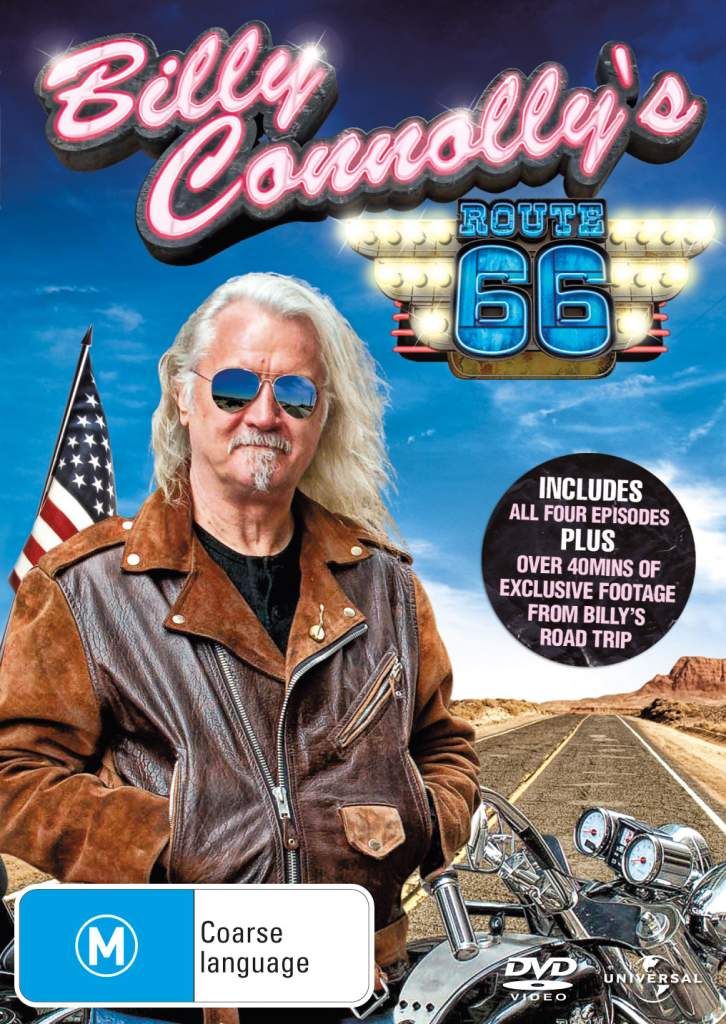 If you missed it on TV, here is a run down of what it was all about…
"All four episodes of the ITV travel series following comedian Billy Connolly as he completes a lifelong dream by travelling the world's most famous highway. Mounting his trusty trike, Billy puts a modern spin on 'Easy Rider' as he journeys along the 2488 miles from Chicago to Santa Monica. To the accompaniment of some of the best American music of the 20th century, Billy stops off along the way to meet some of the highway's biggest fans, and offers his own unique take on some of American history's standout moments."
If you love a laugh, a giggle and finding out about new places, Billy Connolly's Route 66 could be the perfect DVD to unwrap on Father's Day morning!
If Dad is more into crime and drama, the raved about Justified Season 2 is being released on DVD September 5th and could be the perfect new DVD series for Dad to get into. This series has been a hit in the US! There are literally dozens and dozens of  5 star ratings with reviews to match on Amazon.
Justified is a new series to myself and Sparky, as it is not on Free to Air, but has aired on FOXTEL. However, going by the reviews I think Sparky would love it! Even I am intrigued to see it! Here is what is it all about….
"In the aftermath of the deadly showdown that freed Harlan County from the Crowder family crime reign, U.S. Marshal Raylan Givens must now take on even greater criminal forces looking to seize power – including hellbent nemesis Boyd Crowder and the arrival of brutal, new adversary Mags Bennett (Emmyr Winner Margo Martindale). Filled with treacherous twists at every turn… Justified Season 2 DVD proves "spectacularly entertaining" and has established itself as a show for the ages."
The other long time hit series, that has just released season seven on DVD is The Office. A comedy classic that started in the UK and has been adapted for the US, stars well know comedian Steve Carell and his misfit band of office workers.
In series 7 "Big surprises are in store at Dunder Mifflin! Dwight is now the owner of the building and he may be letting this power go to his head; Andy is courting Erin who is dating Gabe; Jim and Pam are struggling with being new parents; and a parade of ghosts of girlfriends past haunt Michael, leading to his final days at Dunder Mifflin."
If Dad likes a good light-hearted laugh and some silly antics then The Office is a TV series for him.
My Dad got the tough job watching The Office Season Seve,  so he could give a man's perspective on the series.
There were plenty of chuckles while he was watching and he gave it overall a thumbs up. He is a man of few words! lol.
There are plenty of silly moments and plenty of the typical pranks. Including having Pam getting a fellow office colleague, to short wire the elevator in order to freak out Dwight, but when it comes time for the prank it doesn't go all according to plan! Let's just say there is pee involved! Really Eww! lol.
Does your Dad have a favourite TV show?
(THIS GIVEAWAY IS NOW CLOSED)
Disclosure: This is not a sponsored post and no monetary compensation was provided nor offered. The products as mentioned in the review, were supplied and all views, opinions and impressions of the review items are my own based on my personal experience with the product.