When I had Miss C almost 4 years ago, I wish I had purchased something like the Philips AVENT Combined Steamer and Blender. She has always been a fussy eater and finding something she liked was (and still can be) a challenge.
I remember trying to make homemade apple puree and burning it when I got distracted by Miss C waking from a nap. I also remember cooking lots of different things in big batches and freezing them, to then discover that she didn't like any of them and all the food was wasted. It was too much relief, that when Miss S started solids, she pretty much ate anything! Which has made it a lot more fun when it comes to meal time and has given us a chance to try new and different foods.
Miss S loves her food and she really loves homemade food. She will eat a pouch, but will gobble down something homemade even quicker! The Philips AVENT Combined Steamer and Blender has enabled me to make her this homemade food in different sized portions, quickly and super fresh. I have managed to adjust the portions so I can make just enough for today or have some leftovers and freeze a portion. Especially good since our freezer space is at a premium.
I have been really impressed with the Steamer and Blender. It performs exceptionally well and makes creating meals a cinch and in no time at all.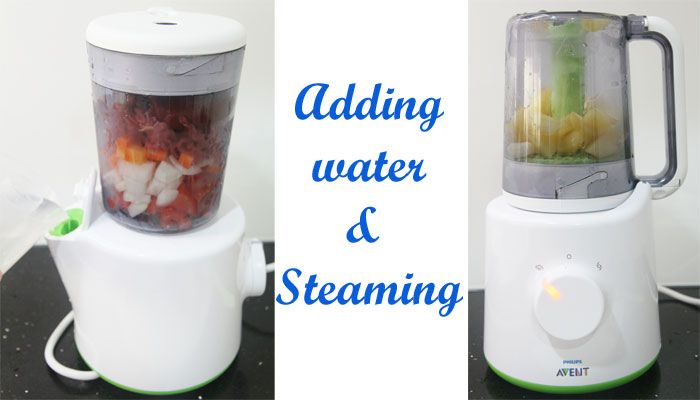 Here is what I love about the Philips AVENT Combined Steamer & Blender…..
There are not too many pieces making it easy to put together and wash up
Doesn't leak, even when turning it over
The size of the jar is quite large and will make enough for more than one child
It is a simple 2 step process of steaming and blending all in one jar
It blends evenly and consistently and you can decide how blended you want the food by simply adjusting how long you blend. Making it ideal for adding more texture into the food
It can make purees, first texture foods and chunky foods too, so will last a good length of time as baby grows. You can see some I cooked below.
The food cooks perfectly and quickly. Everything I have made cooked well and the recipe timing guidelines were accurate
The water you put in the water tank for steaming, determines the length of time it will steam for. 50ml equals 5 minutes, 100ml 10 minutes etc and it beeps and stops steaming when it finishes.
It helps preserves the nutrients in the food
It stores away really well and takes up little space both on the counter and on the pantry shelf or in the cupboard
The recipes in the book are a fantastic starter
Check out the video to see it in action
My tips for using the combined steamer and blender
The jar does get quite hot while steaming and steam does come out the top, so should be moved to the back of the counter away from little fingers
If you aren't making the full portion as it mentions in the recipe, I would adjust the water for steaming, so half the portion, half the water, otherwise the puree will end up being very watery like one I did
It also includes 12 great recipes in the recipe booklet, but I would love to be able to have even more recipes available on the Philips AVENT website or added to the existing book.
If you have a baby who is starting on solids and you want to give them fresh foods from scratch, the Philips AVENT Steamer and Blender would  be perfectly suited for this. Although the RRP of $239.95 may be a bit more than other brands which may do a similar job, the quality of the Philips AVENT brand speaks for itself and for me, so do the results.
While Miss S has been enjoying eating all this yummy homemade food, she has also been enjoying using the fantastic Philips AVENT Toddler Mealtime Set.
The set includes a large and small bowl, divider plate and easy grip, deep scoop spoon and fork. The set have a really fun and cute design, including counting and numbers around the edge of each piece.  However, what I really loved about the set was the excellent anti-slip base. The anti-slip base is part of the plate and bowl and doesn't come off like other brands I have had do in the past.
They are a great size and they are dishwasher safe, BPA Free and unlike kids melamine tableware, the bowls and plate can even go in the microwave! Brilliant as I am always having to swap food from the kids plates to ceramic plates to put in the microwave.
Plus of course these will last right through from baby to toddler and beyond. Miss C loves using them just as much as Miss S and she loves counting the apples. For RRP $29.99 I think it is excellent value.
(THIS GIVEAWAY IS NOW CLOSED)
We love the Philips AVENT Toddler Mealtime Set and want to share with readers just how great they are, so we have two to giveaway to Divine Finds readers!
Simply follow the instructions in the Rafflecopter form below -
*You only need to complete the mandatory entry/entries (and as per Terms and Conditions be a Divine Finds email subscriber) to be in to win. 
*Extra entries are optional, and support the sponsors and Divine Finds
* Have fun, thanks for supporting Divine Finds, our sponsor and good luck!
Disclosure: This is not a sponsored post and no monetary compensation was provided nor offered. A complimentary review sample of the products as mentioned in the review were supplied and all views, opinions and impressions of the review items are my own based on my personal experience with them.Permit LTP 12/00624