Stationery! I love Stationery! Oh, yes so do the kids. Back to school is the time of year you see some of the funkiest, funnest and coolest stationery products around.
It is hard to control yourself when there are so many fun, bright and scented products. Yes, scented, oh how that brings back childhood memories!!  I literally can't leave a shop without something! but now I don't even have to go to the shops to get these cool product for me the kids anymore.  2Kool4Skool is the latest online store that is catering for your child's every back to school stationery need and they don't do boring!
When we received the brightly coloured package in the mail Miss C eyes lit up and couldn't wait to see what was inside. With Kindy this year and Prep next year, discovering the best in back to school can never start to early. Before she could discover what else was even inside, out came the GIANT Glitter Pink Gym Boot Bag. Designed as a bag to carry everything and anything in, from your everyday bits and pieces to whatever else you can think of. Miss C spent an hour filling it up with pens and pencils to start with and walking around showing everyone saying "look, it's huge!". The size of the bag is very large, perfect for High School as well as Primary School kids to carry some of their things in and comes with a long handle so you can throw it over your shoulder. It is also great quality and I can see it being popular with kids. There is also a smaller version designed as  the perfect funky pencil case.
For me there were two things that I really fell in love with from the range. The huge range of scented products (some things I didn't ever think could be scented) and the ingenious and wonderfully colourful and trendy book covers.
Miss C received the beautifully Double Dip Scented Markers which smelled good enough to eat and the smell hit you as soon as you opened the bag. They are lovely quality too and draw really easily with bright vibrant colour. There are also scented rulers, scented highlighters, scented pens (available in delicious flavours like Strawberry, Popcorn, Pepperoni Pizza, Watermelon and Bubblegum), and of course scented book labels, the chocolate is yummo!.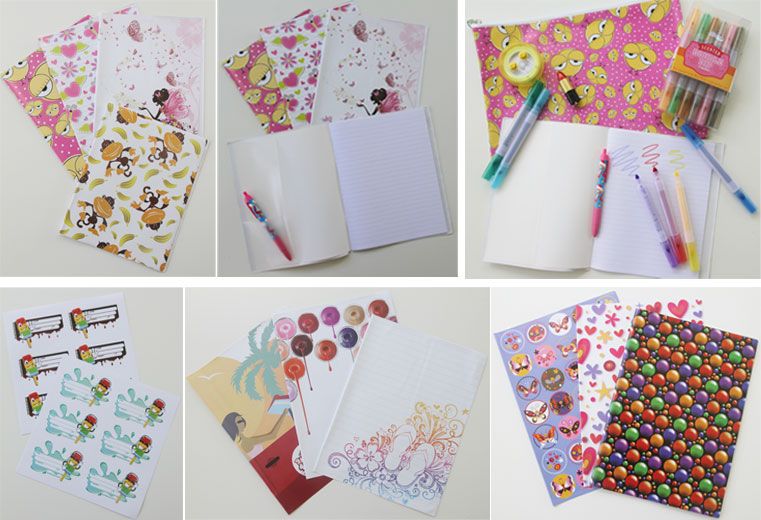 I was really impressed with the school covers. I remember tackling contact with my Mum when it came around to the new school year. Carefully, and quite painfully, slowly smoothing out the bubbles so it would be a close to perfect finish. A set of books could take an hour!  The 2Kool4Skool exclusive book covers do away with the contact and simply slip on the book in a matter of moments!
There are loads of different designs for boys and girls and Miss C got a selection of funky girl ones, from nail polish, to love hearts, butterflies and fairies. Coming in 3 sizes 9×7, A4 and Scrapbook  and with pocket and pen holder they are an excellent fit on books and a good quailty thick vinyl! However other than the designs and ease of use what really sold me on the book covers, over ever using contact again is
They are reusable (saving money and the environment) 

They are made from non-toxic PVC
They are Recyclable!
and they are Bio-degradable!
I love they have taken the environment into account and a parents hip pocket!
There are loads more amazing products for back to school including the coolest USB sticks (sorry Miss C, the lipstick one is for me this time!), crayons, padlocks for lockers, ID covers, earphones, erasers and sharpeners (like the iPhone sharpener!) and pencil cases. I also think the erasers and pens would be perfect for party bags that are not full of sugar!

Plus -
Don't forget to check out the Kids Zone with easy to enter competition and submit your child's name to maybe be on the next book cover!
Make sure you join in the fun and enter the 26 Days of giveaways competition on the 2kool4skool.com.au Facebook page till January 31st
Feel great about buying Book Covers from 2Kool2Skool.com.au because 10% of the profits from school book cover sales goes to the Every Child Deserves an Education initiative. (Remember too you get a FREE Scratch & Sniff Sticker Set at the moment too with the purchase of 2 or more book cover packs!).
Love the look of 2Kool4Skool?
(THIS GIVEAWAY IS NOW CLOSED)
To celebrate the launch of 2Kool4Skool and thanks to Blogs and PR, we have an amazing Back to School prize pack up for grabs!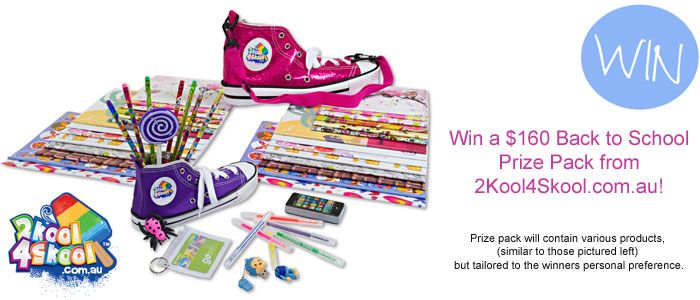 Simply follow the instructions in the Rafflecopter form below -
*You only need to complete the mandatory entry/entries (and as per Terms and Conditions be a Divine Finds email subscriber) to be in to win. 
*Extra entries are optional, and support the sponsors and Divine Finds
* Have fun, thanks for supporting Divine Finds, our sponsor and good luck!
Disclosure: This is not a sponsored post and no monetary compensation was provided nor offered. A complimentary review sample was supplied and all views, opinions and impressions of the review items are my own based on my personal experience with the review item.Permit LTP 12/00624