Until very recently I had never seen Disney Pixar's Monsters, Inc. I am not sure why I had never seen it, as my parents had the DVD from when it was first released, but like Monsters it was hidden the cupboard where it couldn't be seen. However I am so glad that I have seen it now, because it is great! and Miss C and Miss S both found it entertaining and funny too.
Disney Pixar's Monsters, Inc 3D Blu-ray has just come out in cinemas and will be available to buy in store from February 6th. The delightful and inventive story line is what captured me most. I loved the whole idea that the monsters that children believe are hiding in the cupboard, are not scary after all and are actually lovable  endearing and funny.  I also love the idea that a child's giggle is far more powerful at powering the Monstropolis, rather then a child's scream. I wish this concept had been around when I was a kid. I wasn't scared of a monster in a cupboard but I was scared of a monster under the bed! I think it is a great movie to help children realise that really there are no monsters, and if they were realm, they are there to make you giggle and not scream in terror!
I personally adorable the character of Boo. The writers and artists have done a great job making her just like a real tot, and the rest of the monsters and funny "child decontamination team", complete the story to make it enjoyable for the whole family. A true Disney classic.
"Set in Monstropolis, a thriving company town where monsters of all shapes and sizes reside. Lovable Sulley (voiced by John Goodman) and his wisecracking best friend Mike Wazowski (voiced by Billy Crystal) are the top scare team at Monsters, Inc., the largest scream-processing factory. The main power source in the monster world is the collected screams of human children—and at Monsters, Inc., an elite team of scarers is responsible for gathering those precious natural resources.
Believed by monsters to be toxic, children are strictly forbidden from entering Monstropolis. But when a little girl named Boo (voiced by Mary Gibbs) accidentally follows Sulley back into his world, he finds his career in jeopardy and his life in utter chaos. Assisted by Mike, the two pals plot to rectify the mistake and return Boo to her home. When the trio encounters an unexpected series of complications, they become embroiled in a cover-up catapulting them into a mystery beyond their wildest dreams."
I am glad that Disney Pixar's Monsters, Inc has been brought out on 3D Blu-ray, Blu-ray and DVD again. A whole new generation of kids (and big kids!) can enjoy it again.
There is also still a little of the school holidays left, so Disney have  some great activity sheets for the kids to get busy with. You can download the set below.
 Click here to download the Disney Pixar's Monsters, Inc. activity sheets.
(THIS GIVEAWAY IS NOW CLOSED)
To celebrate the realease of Disney Pixar's Monsters, Inc. 3D Blu-ray, Disney have 3 copies to giveaway to Divine Finds readers!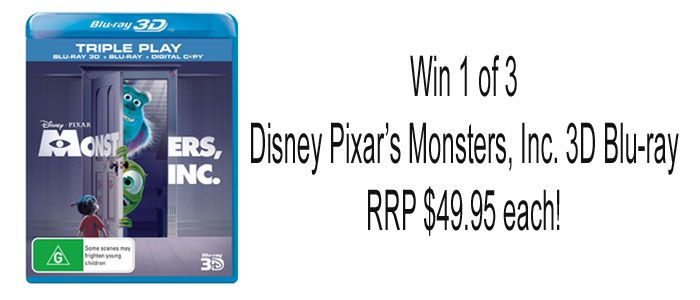 Simply follow the instructions in the Rafflecopter form below -
*You only need to complete the mandatory entry/entries (and as per Terms and Conditions be a Divine Finds email subscriber) to be in to win. 
*Extra entries are optional, and support the sponsors and Divine Finds
* Have fun, thanks for supporting Divine Finds, our sponsor and good luck!
Disclosure: This is not a sponsored post and no monetary compensation was provided nor offered. A complimentary review copy of the DVD as mentioned in the review was supplied and all views, opinions and impressions of the review item are my own based on my personal experience using the review item. Permit LTP 12/00624