A simple string of bunting can brighten up a space and can be used over and over. You can make bunting to suit a special occasion or you can make it so it can be used at many different occasions. All depending on what fabric you choose.
The girls had there double birthday party at the awesome White Ridge Animal Farm at the Big Pineapple a couple of weeks ago. Talented Grandma whipped up some bunting to brighten up the tent and give it a party atmosphere, plus we can now use it in the girls playroom too.
The great thing about bunting it is looks great and it is easy to make. If you can sew a straight line you will be able to master making bunting. Plus it will be one of a kind!
After buying the fabric and bias binding (or any type of binding you want), you can being to cut out the fabric with a template. Buy enough fabric to cut 2 pieces per triangle x how many triangles you want. The size of the triangles will vary how much fabric you will need too.
1. & 2  Make a cardboard template of the size you want the bunting to be. Ours is approximately 20 cm x 20 cm x 16 cm (plus seem allowance). To maximise the use of the fabric draw your template onto the fabric in opposite directions one at a time. The cut out pieces will look like the image below.

3. Putting the right sides together sew the two log sides. Tip- to reduce the amount of stopping and starting and to make it quicker, sew one side of one triangle and then continue with a side of another triangle, then cut the thread holding the two piece together as in the picture below. Then do the same for the other side of the triangle.

4 & 5. Before turning out, trim the bottom point just a little to reduce bulk (don't cut sewing part) and then push the point inwards to make turning inside out easier. Use scissors or something pointy like a knitting needle to push out the point and make it a neat finish.

6. Trim off the excess fabric tips pointing out of the top of the triangle and start to sew your binding to the top of the triangle, deciding how far apart you would like each triangle to be. Our party bunting was approximately 15 centimetres apart.

7. Your finished! Hang and admire!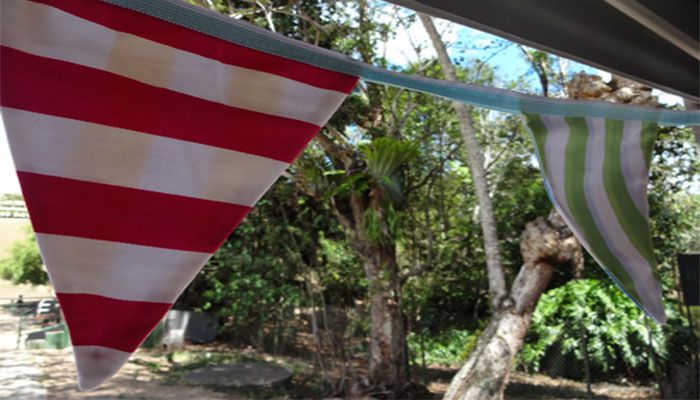 Have you made bunting before?
What occasions have you made it for?