I had the girls two years apart but both were born in the middle of Summer! It was very hot for me having a huge belly but it was also very hot for the girls once they were born. They mostly lived in singlets, nappies and their light wraps. However, sometimes the wraps just weren't enough and they were like most little ones, talented houdini's. You would usually find their arms flapping about when you went back to check on them.
So four years ago I started searching for a solution to stop the first little houdini, Miss C and discovered sleeping bags. I did lots and lots of research before I bought my first sleeping bag. I wanted it to be made of natural fibers. I wanted it to be generous in size. I wanted it to be easy to wash and quick to dry. I also wanted it to be comfortable for the kids to wear and last a long time, since kids grow so quickly!!
After looking at all the brands available at the time, I ended up choosing a Woolbabe from one of my regular shopping haunts, The Sleep Store. Little did I know at the time, just how fantastic this sleeping bag would be and how I would use still use them 4 years later!
My first sleeping bag purchase was the Side Zip 3-Season Woolbabe in Toffee Apple. The 3-Season has proved to be perfect for Queensland.  Miss C used it throughout Spring, Autumn and the beginning of Winter.  From when she was 3 months it was being used everyday, so I invested in a Sky Blue too. They were being washed everyday and they dried quickly ready to be used again that day or evening. They still look and work perfectly, just as they did when I bought them 4 years ago. A real testament to their quality.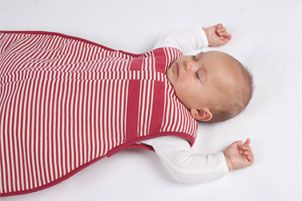 Since then I have invested in 2 more Winter front-zip duvet Woolbabe sleeping bags that have keep both girls warm and sung during the cold winter nights. Perfect for kids who like to kick the doona off! However, the one time of year I hadn't been able to use the Woolbabe was the middle of Summer. It was just to hot to use the 3-Season in Queensland, especially during Christmas and New Years. But they still needed a light sheet for the wee hours of the morning when it gets a little cool.
We still had the problem of sheets being kicked off and top sheets really weren't an option when they were in the cot for safety reasons, so I was excited to learn about the latest Woolbabe release. The Summer Woolbabe!
The Sleep Store were lovely enough to to send me one to try out when I heard about them and knew they would be perfect for those hot Summer nights.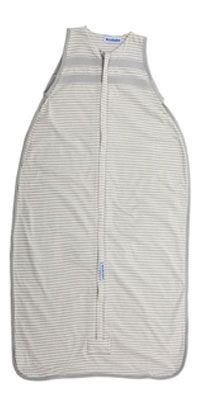 The Summer Woolbabe has the same great features of the other Woolbabe sleeping bags but the material is lightweight and like a light shirt and feels lovely on the skin.
It is:
Machine washable and can be put in the tumble dryer on low
Generous overall size and the 3 months  (approx 6 kg) to 24 months fits well on Miss S and there is a 2 -4 years available too.
Designed for travel with a travel slot for buggy and carseat.
Low Fire Danger for peace of mind
Made with a quality double  front-zip for ease of changing nappies and getting it off and on
Made with domes under the arms so you can make it fit snug on all little ones
It can be used from about 24 to 32 degree room temperature
Made from 1 layer of 100% natural fabric. 30% super fine merino/70% soft cotton blend fabric.
The sleeping bag has a lovely stretch to it, so when Miss S rolls over it moves with her. The fabric is super soft, not scratchy at all and feels lovely on the skin. The Merino helps regulate body temperature so she doesn't end up sweaty and uncomfortable. All the Woolbabe sleeping bags do this and they perform exceptionally well. I have used it a lot recently, as some of the mornings have been a little cool just on dawn. The only days we haven't used it was when it was 37 degrees while we were camping!
All our Woolbabe sleeping bags have lasted incredibly well and we have taken them to the USA, New Zealand and they have traveled with us throughout Australia. The quality is amazing, the fabrics are natural which is very important to me and they are priced very well too. Plus you can often pick up specials and discounts at The Sleep Store!
(THIS GVIVEAWAY IS NOW CLOSED)
Since we are such fans of the Woolbabe, The Sleep Store are giving Divine Finds readers the chance to win a 3-Season Woolbabe in colour of choice!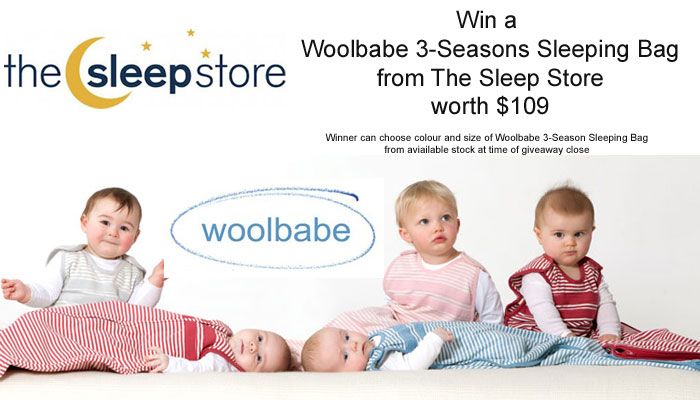 Simply follow the instructions in the Rafflecopter form below -
*You only need to complete the mandatory entry/entries (and as per Terms and Conditions be a Divine Finds email subscriber) to be in to win. 
*Extra entries are optional, and support the sponsors and Divine Finds
* Have fun, thanks for supporting Divine Finds, our sponsor and good luck!
Disclosure: This is not a sponsored post and no monetary compensation was provided nor offered. A complimentary Woolbabe Summer Sleeping Bag as mentioned in the review, was supplied and all views, opinions and impressions of the review item are my own based on my personal experience with it.Permit LTP 12/00624