As the heat wave continues in Queensland we have been doing everything we can to keep cool. The girls are playing in the paddle pool,  we have cool showers, we visit the beach and even a little bit of water skiing with friends has helped keep the days bearable.
Living in Queensland also means that the staple wardrobe for keeping cool during the sweltering heat is singlets, shorts and the one item that almost every Australian can't live without, the thong!
To me thongs are an Australian institution and I can't remember a time in my life that I haven't had a pair (or multiple pairs!). We even used them when backpacking for having showers in dorm accommodation.
From popping down to get the milk, to heading to the beach and everything in between the thong is one versatile piece and on the whole a good looking and comfortable piece too.
I have gone through dozens of thongs in my life, from a one plug blow out, to simply wearing them out. When buying thongs I look at two things, style and comfort. They must look good and be comfortable but I have never thought about what happens to all the thongs once they are no good anymore and end up in landfill.
However, malc&andi have thought about this and I think it is both inventive and ingenious to have created a thong that is made from 100% natural rubber, that is organic and at the end of its life biodegradable.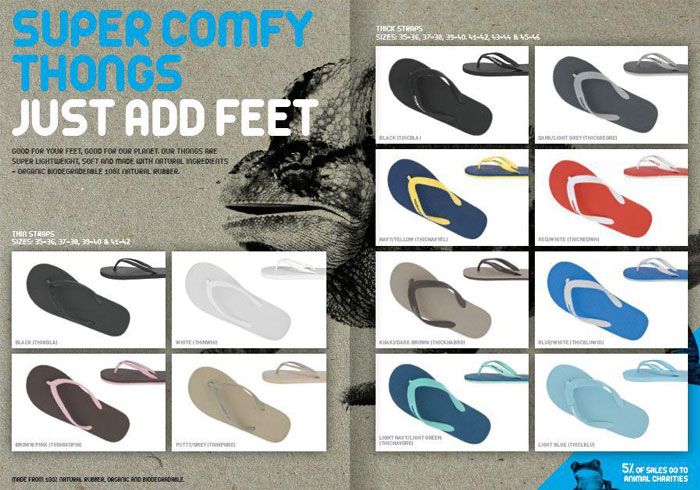 The new range of thongs from malc&andi are also, as you would expect from anything that malc&andi create, stylish. Coming in a range of complementary and fashionable colours there is a style to suit all men and women. I love the thin strap pink and brown colour combo I have been wearing pretty much everywhere for the last month. They are very comfortable and now have a true foot pattern in the rubber!
The thick strap thongs come in a great range of colours too and are ideal for both men and women. Sparky was very happy popping on his pair of light grey thongs and heading to the beach to push the girls on their bikes.

Just like everything from malc&andi the quality of the thongs is fantastic and I can see them lasting at least till next Summer. The thongs also come with FREE Postage just like anything over $10 at malc&andi and as usual 5% of sales goes to animal charity.
If you are after some comfy thongs that not only look good but are good for the environment too, the range at malc&andi are definitely work checking out!
(THIS GIVEAWAY IS NOW CLOSED)
To celebrate the launch of the new range, malc&andi are giving away 4 pairs of their fabulous 100% natural rubber, organic and biodegradable thongs to Divine Finds readers!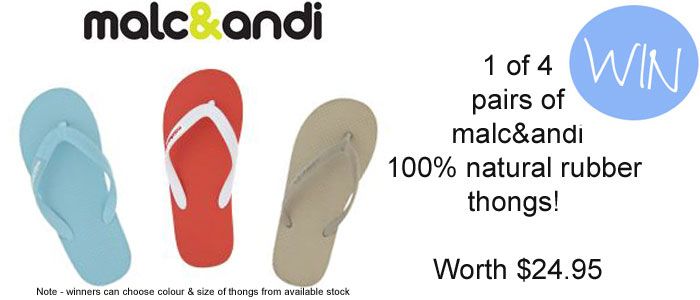 Simply follow the instructions in the Rafflecopter form below -
*You only need to complete the mandatory entry/entries (and as per Terms and Conditions be a Divine Finds email subscriber) to be in to win. 
*Extra entries are optional, and support the sponsors and Divine Finds
* Have fun, thanks for supporting Divine Finds, our sponsor and good luck!
a Rafflecopter giveaway

Disclosure: This is not a sponsored post and no monetary compensation was provided nor offered. A complimentary set of  thongs as mentioned in the review, was supplied and all views, opinions and impressions of the review item are our own based on our personal experience with it.Permit LTP 12/00624