Remember I mentioned a few days ago how I am not a fan of having to wash up? Well I still am not, but I do love anything that will  make it easier! Handy products that make cleaning those kitchen items that are not dishwasher friendly easier, you have me listening. When we lived in London everything was done on a backpacking string, including pretty much all the groceries we bought, and like most things in life, you do get what you pay for. Pay 50p for some washing up liquid and don't expect it to be fantastic! You use loads of it to get it to do a good job at cleaning and before you know it you have to buy another!
Now that I don't live on a backpacking budget, I can be a little more fussy about everything I buy from the supermarket. However that doesn't mean I want to pay a huge amount for a product to do its job but I still want to get the job done quickly, easily and something else that is very important to me, it needs to be good for the environment.
When Palmolive offered for me to try some of there range of Ultra Dishwashing Liquid, it was perfect timing because my previous dishwashing liquid (which was a bulk buy and had lasted a year!) had literally just run out!
With camping upon us, it was also the perfect time to give it a real test! The Antibacterial was the one that really interested me as I couldn't think of anything more perfect to take and use while camping.
The Palmolive Ultra Antibacterial Dishwashing Liquid with Lemon Extract is designed to fight germs on the sponge for 24 hours. This is very good when you are somewhere that the flies gravitate towards everything you do and there is constant dirt and mess. It is nice to think that when washing up every hour or so while camping, the natural antibacterial agents in the liquid combat unwelcome bacteria on the sponge, hence helping everything be thoroughly cleaned and not transferring germs around.
It also:
Smells pleasant
Will last a long time because the little I used went a long way and did a full wash up.
Gives plenty of bubbles (even 2 hours later there are bubbles in the water, yes I was lazy and forgot to empty the water)
Cleaned everything well
Gentle on my hands (I don't have overly sensitive skin but didn't have any irritation) and
Is readily biodegradable (very important for household and camping washing up!)
The other Palmolive Ultra variety that I was given to try was the Pomegranate. I wasn't sure what to expect and I have never bought nor really considered any dishwashing liquid other then no fragrance or lemon, so I was pleasantly surprised to find that I liked the scent and is something that I will definitely be looking at buying again in the future.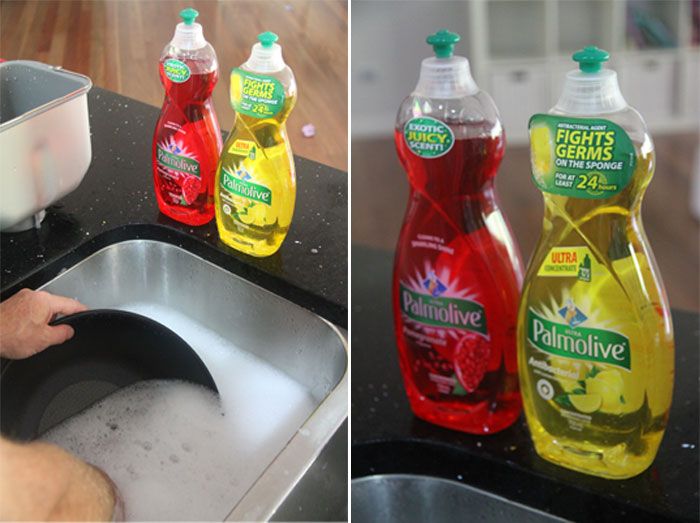 The Pomegranate is designed (like all Palmolive dishwashing products) to cut through grease, and leave dishes shiny and clean. It cleaned very well, and the dried dishes didn't have any residue of either food or dishwashing liquid. To me the dried dishes didn't smell of Pomegranate as such, which I think it a good thing as I don't really want the dishes smelling of Pomegranate, but it was a pleasant fresh and fruity fragrance to wash up with and I think for something that was really messy and perhaps had strong smelling food on it, it may neutralise the smell.
The Palmolive Ultra range is available at all good retailers and the large 750ml retails for $4.99, which I think is a fair price for something that will last a while.
Intrigued by the Palmolive Ultra Dishwashing liquid range?  Interested in giving the Antibacterial a whirl and seeing what the Pomegranate smells like?
(THIS GIVEAWAY IS NOW CLOSED)
Palmolive have got 3 prize packs, containing  one of each of the 750ml Palmolive Ultra Antibacterial and Pomegranate to giveaway to Divine Finds readers!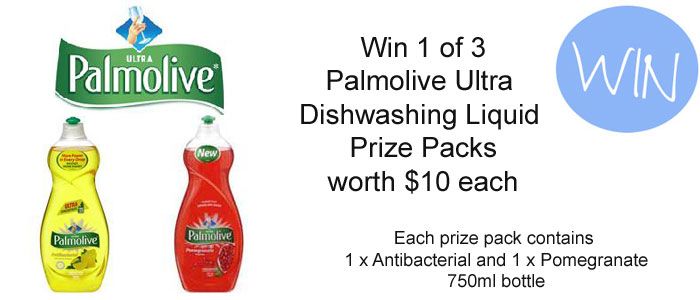 Simply follow the instructions in the Rafflecopter form below -
*You only need to complete the mandatory entry/entries (and as per Terms and Conditions be a Divine Finds email subscriber) to be in to win. 
*Extra entries are optional, and support the sponsors and Divine Finds
* Have fun, thanks for supporting Divine Finds, our sponsor and good luck!
Disclosure: I received complimentary Palmolive products, as mentioned above, to facilitate this review. Digital Parents Collective also gave some monetary compensation. However,  as always, all views, opinions and impressions expressed of the review item are purely my own, based on my own personal experience with the product. Permit LTP 12/00624