This year I made a deal with myself. With Miss C off to Kindy I would make a conscious effort to get more fit! I would take the opportunity to try to lose some baby weight and have that fit and feeling great feeling.
Now with only Miss S in the house I wanted to have the choice of either exercising on the treadmill when she was asleep or while she was awake to be able to exercise with her. I had been looking at options for stroller to use for jogging and running (once I am fit enough to really run!) and there are lots of choices and all of them have many features. It can be really hard to choose and know what is best for you. So when I was offered to try out the BOB Revolution SE Jogging Stroller, it was perfectly timed, as I could now discover what a jogging stroller can do for me and what they have to offer.
B.O.B stands for Beast of Burden but since that is to much of a mouth full, it is now just BOB. When researching I found that B.O.B strollers are made by a company who specialise in making high tech bicycles, so the parts used in the BOB Revolution SE are all high quality parts that can be found in bikes! Pretty cool! Plus you know when jogging with your stroller everything is safe for both you and your little one.
I have been really impressed with the BOB Revolution SE Stroller as I can tell a lot of thought has been put into its design for both the person using it to exercise and for the child who is traveling in it. It is packed with features that any parent would love and they are what make it especially good for exercising and going off road.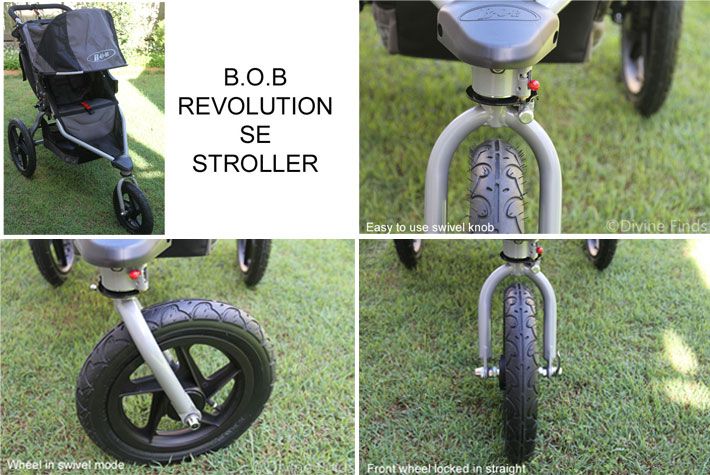 It is nice in size, big but not huge and definitely big enough for the little ones.
It has a swiveling front wheel which gives it great maneuverability and turns in a fairly tight circle. You can also lock in the wheel straight so making it easier for jogging. Although in our area we have so many twists and turns on our footpaths, that we found a mix of lock on and off works best.
It is really easy to lock and unlock the front wheel, it gets 5 stars for this!
Our older stroller always had canopy issue (it was far to small!) so I was bowled over by the size and usability of the canopy. It has three positions and when pulled down fully, provides excellent protection from sun, rain showers and wind! It is a 5 Star Canopy!
The storage is another 5 star feature for me. There is the Low Boy Cargo Basket which is very generous, the back seat pocket which is again big and the 2 inside seat pockets which are perfect for snacks and water bottles or even a mobile phone.
It has an excellent large viewing window so I can always see what Miss S is up to!
It has some great safety features like the built in wrist strap that is part of the handle and is also used for locking the stroller when it is folded down.
The suspension is really good and you can see and feel it work to provide a smooth ride.
The seat is well padded and the 5 point safety harness is well constructed plus it is easy for parents to unlock! Nothing worse then tight harness locks that require two hands to open them.
The park brake is easy to put on and off and when the brake is on, the stroller is going nowhere.
There are nice range of accessories for the stroller and I was amazed at how easy it was to put them on! The snack tray goes on and comes off with a click! Plus the snack tray is perfect for the water bottles and little foods. It has been designed for children to have plenty of leg room which is really good thinking.
The Accessory Adapter means you can also use a BOB Infant Car Seat Adapter so the stroller can be used from birth. However, BOB recommends babies be at least 8 weeks old before riding in the stroller without an Infant Car Seat Adapter and compatible Britax Safe-n-Sound Unity Infant Carrier with BOB Fashions. BOB also recommends babies be at least 8 months old before running, jogging or off road use.
The weather shield is also an excellent accessory so you can head out even when showering or windy (which there has been a fair bit of lately!). It it easy to put on and has excellent ventilation and a huge window for little ones to see out of.
It fits easily in our boot, and would fit most I would imagine. You can take the wheels off to make it more compact. I tested it in the shops and supermarket aisles and through the checkout and it fit fine but would say it is not compact enough for public transport or for very small cars. I probably wouldn't take it traveling either as I think it would be a bit too big to take it to the airport boarding gate. It really is a dedicated exercise stroller that does exactly what is made for.
The folding is another 5 star feature. In two steps you are done and it is seriously easy! I have fought with many strollers in the past and caught my fingers enough to not buy anything that doesn't have a good folding mechanism and the BOB does! It is light enough to pick up easily and put in the car too. It weighs 11.5 kg and can take up to 18 -25 kg in weight.  I couldn't film myself showing you just how easy it is to fold so check out the video below.
Overall I am really impressed with the BOB Revolution SE Stroller and can definitely recommend it to anyone looking for a stroller to use for exercise and wants the option for picking up the milk on the way!
Check out the BOB Stroller range and the variety of colours at Britax Australia here.
Plus you can find more about Britax Australia on their Facebook Page here.
(THIS GIVEAWAY IS NOW CLOSED)
The team at Britax and BOB also have a NEW 2013 BOB Revolution SE Stroller (which has only just been released) and valued at RRP $599! up for grabs for all Divine Finds readers! Plus the winner can choose from Black, Orange or Navy!
Excited!! I sure am!!
Simply follow the instructions in the Rafflecopter form below -
*You only need to complete the mandatory entry/entries (and as per Terms and Conditions be a Divine Finds email subscriber) to be in to win.
*Extra entries are optional, and support the sponsors and Divine Finds
* Have fun, thanks for supporting Divine Finds, our sponsor and good luck!
a Rafflecopter giveaway

Disclosure: This is not a sponsored post and no monetary compensation was provided nor offered. A complimentary BOB Revolution SE Stroller was supplied and all views, opinions and impressions of the review item are my own, based on my personal experience with the item.Permit LTP 12/00624