When it comes to buying gifts, sometimes I know exactly what to get someone, but sometimes I am left scratching my head. What to get for the person who has everything? What to get for a fantastic person who you have worked with, or a teacher, or someone special who you just want to say thank you to? Then there are the special occasions throughout the year, like birthday's, Christmas, the new & cute bundles of joy, Mother's Day, Father's Day, Anniversaries, and of course, Valentine's Day.
That is where the delectable and smart idea of Gift Wrapped Up come in and make shopping for the perfect gift a cinch and you can get it done quickly, easily and have it delivered fast!  Perfectly presented in a bright red gift box, your choice of hamper can be delivered straight to the recipients door, including a special gift card with your choice of message.
The hardest part about Gift Wrapped Up is choosing which hamper to order. Do you go for one of the mouth-watering chocolate and food hampers, filled with the finest foods from  gourmet Australian food boutiques. Or perhaps one with an added pop and pampering for that special night in (or out!).  I would love for the Chandon Pamper Plus to arrive on my door step for Valentine's Day this Thursday and I am sure Sparky wouldn't turn down the Urban Rituelle Indulge Hamper!
I also fell in love with the kids hamper choices! I adore the Hoot & Hootabelle Buddy Combo Hamper  but the Hungry Caterpillar and Humpty Dumpty Hampers were a close second. I was also impressed with the quality of products in the baby hampers, with brands like Oobi, you know you will be only giving the best.  The Gift Wrapped Up hampers take all the hard work out of finding and putting together a perfect gift and 99% of their new customers are referrals, a testament to their high quality products and service.
I couldn't resist trying one of the hampers, the chocolate and boutique goodies were calling me, and after some debate picking which one, my sweet tooth lead me to the Hot Chocolate Treat Hamper. My box of delectable goodies was delivered  by courier the next day! Very impressive! and I was certainly wasn't disappointed when I opened the box.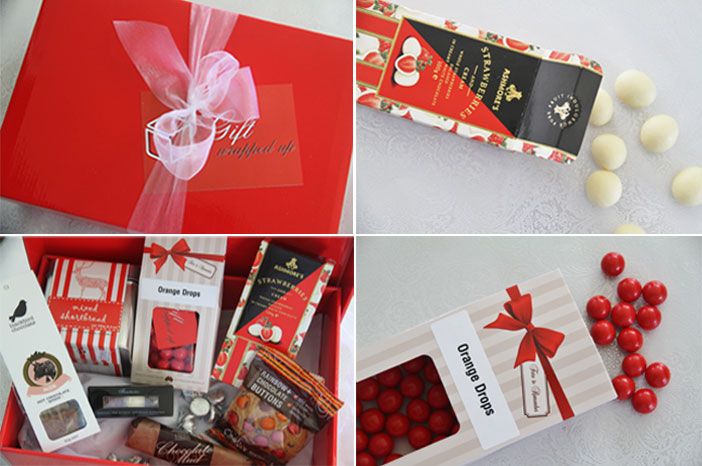 The  box was filled to the brim with wonderful tasting Australian foods. There is enough to last weeks and of course plenty to share, if I want
. The classic Orange Drops, the Strawberries and Cream and  melt in your mouth shortbread were just a few of the morrish goodies worth a mention. A great hamper and any one receiving this at their door would feel very special indeed.
The site is easy to navigate and each hamper has a good detailed description of what is in the box. However, if you can't find what you are looking in their large range, the team at Gift Wrapped Up can help create exactly what you need.  They are passionate about tailor-made orders and providing high-quality exceptional service.
I can highly recommend browsing the ever expanding range of hampers the next time you are after a special gift, or that last minute gift you need delivered in a hurry! The lucky recipient will not be disappointed!
(THIS GIVEAWAY IS NOW CLOSED)
Love the look of the Gift Wrapped Up hampers? Do you have someone you would love to send a hamper too? Maybe yourself…..?
Why not grab one now and get 10% off with the exclusive Divine Finds discount. Enter – "Divine" at checkout and then why not enter to win 1 of 3 gift vouchers!
The team at Gift Wrapped Up are giving Divine Finds readers the chance to win 1 of 3 $50 Gift Vouchers to experience the excellent service and hampers for yourself!
Simply follow the instructions in the Rafflecopter form below -
*You only need to complete the mandatory entry/entries (and as per Terms and Conditions be a Divine Finds email subscriber) to be in to win.
*Extra entries are optional, and support the sponsors and Divine Finds
* Have fun, thanks for supporting Divine Finds, our sponsor and good luck!
Disclosure: This is a sponsored post and a gift voucher was provided to experience the Gift Wrapped Up service and hampers. However all views, opinions and impressions of the review items are my own based on my personal experience with the product.Permit LTP 12/00624