Miss C started Kindy this year and along with getting her Kindy sheets and Kindy clothes ready, we had to get her lunchbox ready too. I got organised with lunchboxes, lunch bags and lunch bottles but we also had to get the food to go into her lunch box Kindy ready.
Last year we were given a list of good and not so good lunchbox guidelines and ideas. Although generally Miss C eats pretty healthy foods we had to re-analysis everything that would go into her lunchbox and also try out some new foods so I knew what was going in was good but would also be eaten!
On every supermarket trip I would look for new and different products. Products that were healthy, Miss C liked the look of and also ones she would try and fingers crossed like. During the hunt we found a stand out product, that Miss C loved.
The SPC range of Fruit Crush-ups have been a real hit, and not only with Miss C but also Miss S, who desperately wished she was going to Kindy too! Miss C always tells me she likes them and they are yummy, and they are conveniently packaged in pouches with a resealable lid (that she can use  herself), they are portable and the 90g serve is just the right amount for her hungry little tummy (meaning less waste too).
The range of SPC Fruit Crush-ups include
Mango,
Banana,
Mixed-Berry,
Fruit Salad,
Tropical
Strawberry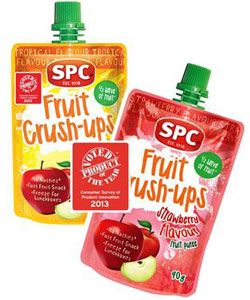 Miss C and I are not the only ones who think the SPC Fruit Crush-ups are good, because from a survey of over 11,000 households, the Strawberry and Tropical flavours have just won the much sort after Product of the Year award.
I can see why so many people voted for them, because in addition to my three main reasons for buying them, (they are healthy, they can go in her lunchbox and she will eat them),
They can be eaten as is or frozen (Miss C loves having them frozen most)
Each pouch contains over half the recommended daily serve of fruit
They are 99% fat free; contain no known allergens, no artificial colours or flavours and no artificial sweeteners or preservatives.
They are 88-90% Fruit Puree, while the remaining amount is fruit juices and a tiny amount of ascorbic acid.
They are portion-controlled pouches with a resealable cap so can be saved if not finished, they are less messy and they are easy for kids to use.
Plus we can use them for afternoon tea, when we go out, to the park, on road trips and leave some at Grandma's house so we always have a snack handy
They are also a good price at $1.29 each (plus they are always having great promotions!)
The variety of flavours will make regular  appearances in Miss C's lunchbox  and as a yummy frozen hot day snack too.
Find out more about SPC Fruit Crush-ups and how they won the Product of the Year award here.
(THIS GIVEAWAY IS NOW CLOSED)
Do your kids love SPC Fruit Crush-ups? Perhaps they haven't tried them before and you would love to give them a go?
How does a terms worth of SPC Fruit Crush-ups sound?
Thanks to SPC, Divine Finds readers have the chance to win a terms worth of SPC Fruit Crush-ups valued at $61.92.
The winner will receive 6 boxes (one box of each flavour) of SPC Fruit Crush-ups. Each box contains 8 pouches. So altogether the winner will receive 48 pouches of delicious Fruit Crush-ups to try! 
Simply follow the instructions in the Rafflecopter form below

-
*You only need to complete the mandatory entry/entries (and as per Terms and Conditions be a Divine Finds email subscriber) to be in to win.
*Extra entries are optional, and support the sponsors and Divine Finds
* Have fun, thanks for supporting Divine Finds, our sponsor and good luck!
Disclosure: This is a blogvertorial for Digital Parents Collective and SPC. This is a sponsored post and we received a complementary selection of SPC Fruit Crush-ups to try and use for Kindy lunch. All views, opinions and impressions of the review items are our own based on our personal experience with them.Permit LTP 12/00624