When planning the girls party, I wanted simple foods that the kids could grab and go. I also wanted it to be kid friendly size and of course yummy! But there are only so many hours in the day so a little cheating can come in quite handy!
I discovered the Caramel Popcorn Choc Tops on taste.com.au and I knew they would be a winner with the kids and with the cheats method of making caramel popcorn, I knew they would be a winner in the kitchen too.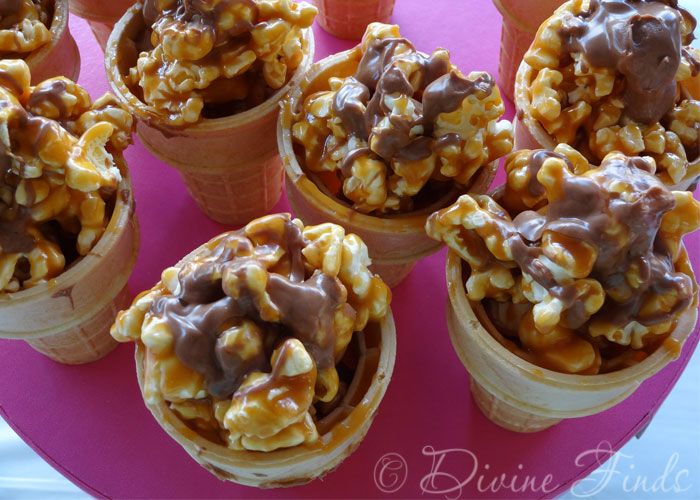 You can get the recipe from here on taste.com.au too.
What you will need: 
Unbuttered popcorn – air popped in popcorn machine or from natural popcorn bag
2 x 300g pkts of  Pascall Columbines
300g butter, chopped
10  ice-cream cup cones with the flat base
200g cooking chocolate, like Cadbury buttons
What you will need to do
Step 1 – Pop popcorn and put it in a large bowl or deep tray, like a cake tin. We found this worked well.
Step 2 – Either in a microwavable dish, double-boiler or in a saucepan (what ever you feel most comfortable with), melt caramels and butter till runny and mixed together. We found the microwave worked well, stopping and stirring every 30 seconds or so.
Step 3 – Pour over popcorn and using a spoon move the popcorn around until it is covered. Then quick place in ice cream cones, in a nice ice cream shaped pile. (If you have someone else handy, an extra pair of hands is really good at this point)
Step 4 – Melt chocolate buttons in double-boiler, or microwave safe dish stirring every 30 seconds or so until melted and then drizzle over top of caramel popcorn in cones.
Step 5 – Allow to set (ours set without the need to put it in a fridge but you can put it in the fridge) and put them in a air tight container until serving.
Yum!
We found these were really tasty and when you don't have time to make the caramel from scratch is a great method.
Do you love caramel popcorn? 
Do you have a hankering for caramel popcorn now?