Miss C has settled into Kindy extremely well. No tears, no sad faces, just a smile and with a hop, skip and jump she is ready to play and happily waves goodbye to me. However, sometimes in life, it is not such smooth sailing and in the past Miss C has had her moments when she found it hard for Sparky or I to leave her. It can be stressful for both  the little one and the parent and perhaps like me, leaves you feeling like you are a big meanie, even though you know they will have lots of fun.
If like me, you knew there was a way to help make it all better or easier for your child to head off for a day of fun, you would grab it with both hands. Recently I discovered a perfect tool to help with these times and Miss C loves it as I know any child would! The Kimochis® Nesting Heart.   The adorable, plush red nestled one inside the other, hearts.   "When family members or friends are separated, each person can keep a heart as a tangible, playful way to stay connected. Perfect for back-to-school jitters, sleep away summer camps, sleep overs,  parents on business trips, best friends, or long distance relatives."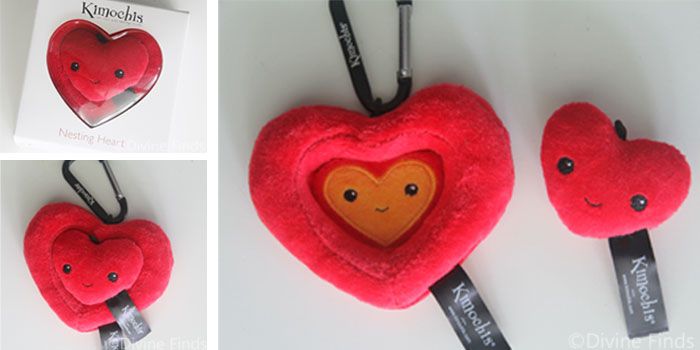 First of all, the entire Kimochis range is adorable!! All 7 different  Kimochis® characters  are beautifully made from high quality materials and come with feeling cushions that live in their pouches, teaching children to recognise, manage, name and communicate their feelings in a fun, playful way. They are soft, cuddly and just so darn cute, you just want to take them all home!
The Nesting Heart in particular is a ingenious idea I think.  The Nesting Heart is a physical symbol to remind children that even though they are apart from their loved ones,they are always in their heart.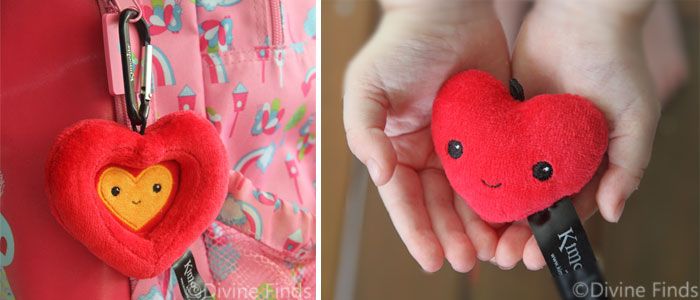 Miss C thought they were very cute and loved clipping the large heart on her Kindy bag. She was very excited by the concept that she would have one part of the heart and I the other and couldn't wait to put them back together again. You can also see how they are the perfect size for little hands, with Miss C holding the smaller nesting heart in her hands above.  The Nesting Heart is a simple, yet really effective tool  that helps children feel comforted and connected during periods of transition. It gets 5 stars from both Miss C and myself.
Think the Kimochis range is brilliant? Want to check all the characters out?
Plus thanks to Kimochis, Divine Finds readers have the chance to win 1 of 2 Kimochis Nesting Heart worth $24.95 each!
(THIS GIVEAWAY IS NOW CLOSED)
Simply follow the instructions in the Rafflecopter form below -
*You only need to complete the mandatory entry/entries (and as per Terms and Conditions be a Divine Finds email subscriber) to be in to win.
*Extra entries are optional, and support the sponsors and Divine Finds
* Have fun, thanks for supporting Divine Finds, our sponsor and good luck!
Disclosure: This is not a sponsored post and no monetary compensation was provided nor offered. A complimentary Kimochis Nesting Heart as mentioned in the review, was supplied and all views, opinions and impressions of the review item are my own, based on my personal experience with the product.Permit LTP 12/00624