If you are a regular Divine Finds reader, you will know I am a huge fan of LEGO and the developmental benefits that it has for children. I am always amazed when I see the latest range releases and think how amazing it would be to work for LEGO and see how the sets are developed and created. It would be so fascinating! Maybe one day I will be lucky enough to be able to see behind the scenes and the creative minds that help LEGO come to life in little hands.
This year they have released tantalizing new sets in every  range, including LEGO City, LEGO Star Wars, LEGO Ninjago, LEGO Super Heroes, LEGO Creator and LEGO Bricks & More and there really is something for every little (or big) builder. Below are just a handful of the new sets to check out. I am a bit partial to the Fire Truck!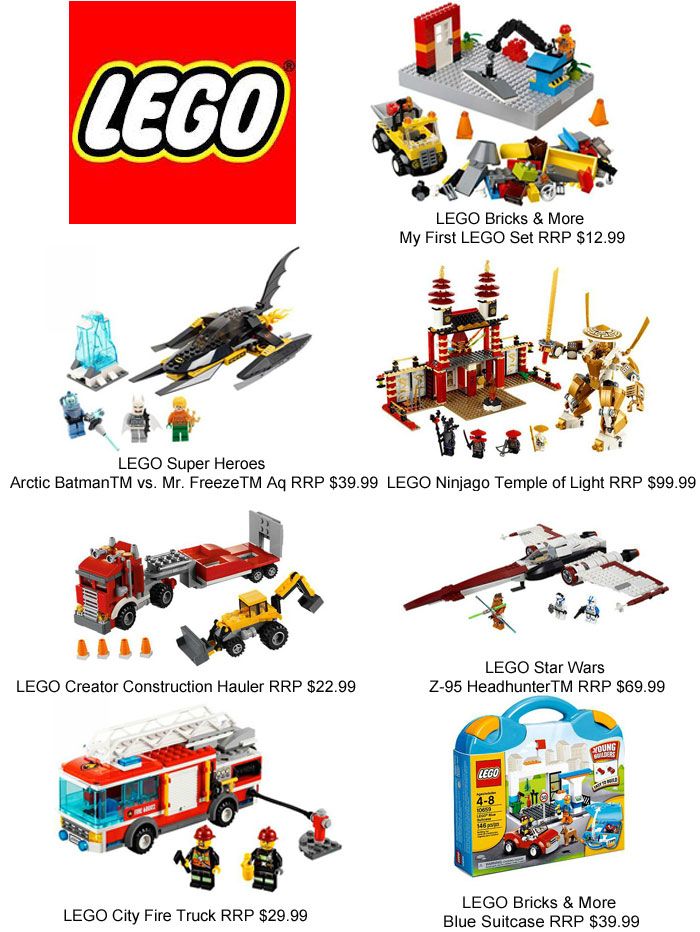 Included in the new sets is an ingenious new idea, the suitcase! Now the kids LEGO can be portable and go everywhere, from a trip around the world, to around the corner to Grandma's and Granddad's.  The suitcase itself is fantastic quality. It is made from a durable, thick and strong plastic with clips that are easy enough for the kids to get opened and closed but strong enough to make sure everything stays inside. REALLY impressed!
The set comes with loads of bits! Of course the pink suitcase is themed with pink, green, yellow, white and purple piece and includes addition, and very cute accessories, like the window, door, tree, fence, bicycle, umbrella, shopping basket, croissant and even a cat!
Miss C LOVES this set and happily plays with it for ages, building and rebuilding. The aim of the Bricks & More sets are to guide children with some instructions, but for them to be able to take it all apart and using their own imaginations create something completely new and different again.
This set is perfect for 4+ and has enough pieces to really make quite a few things at a time. The pieces can also be divided how the child likes in the suitcase using the dividers. They can be organised into colours, shapes or anyway they like. Plus more pieces can be added and stored in the suitcase.
I would highly recommend the LEGO Suitcase's, as it comes in blue too, to anyone with a young builder. It is an excellent value set!
Another of the new sets is the My First Princess. This set is a cute little set that comes with a really cool (Miss C loves this!) horse and of course Princess.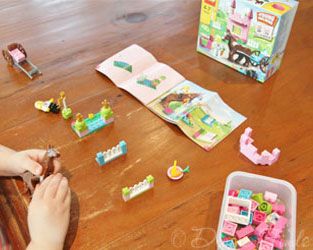 The set has enough pink, green, blue and yellow pieces to be able to make 1 to 2 projects from the book at a time. Although sometimes some substitution was required with different coloured pieces to what was in the book when making more then the one project.
The instruction book has 8 pretty easy projects in it and Miss C enjoyed making them all by building and rebuilding. She particularly liked the horse jumps and using the horse with its poseable head and legs.
There are little extra accessories like a cute carrot for the horse, hair brush, plate, trough, flag, buggy and the option to have the Princess in either a dress or legs is a really smart idea and fun to swap out.
It is a cute little set perfect for the young builder and very much appealing to Miss C! For $12.99 I think it is a perfect price for birthday gifts and special treats. A real hit in this house.
Both sets, like all LEGO, are perfect for developing fine motor skills, problem solving skills, imaginative skills and helping learn about colours, counting, orientation of pieces and developing the concept of building projects in a specific order.
LEGO have once again created an exciting new collection of sets and I know some of these will be on the birthday and Christmas list this year!
(THIS GIVEAWAY IS NOW CLOSED)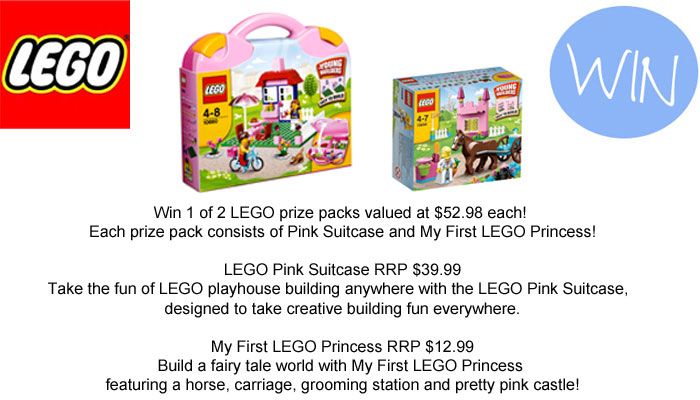 Simply follow the instructions in the Rafflecopter form below -
*You only need to complete the mandatory entry/entries (and as per Terms and Conditions be a Divine Finds email subscriber) to be in to win. 
*Extra entries are optional, and support the sponsors and Divine Finds
* Have fun, thanks for supporting Divine Finds, our sponsor and good luck!
Disclosure: This is not a sponsored post and no monetary compensation was provided nor offered. Complimentary LEGO as mentioned in the review, was supplied and all views, opinions and impressions of the review items are my own based on my personal experience with the product.Permit LTP 12/00624