There is something about smart, innovative and easy to use children's products that win me over instantly. If it makes life easier, a job quicker or task more simple my ears are pricked  and the new Mountain Buggy pod certainly had me interested when I heard about it.
Everyone with children or even grandchildren will find at one point or another they will need a highchair for a little one. There a lots of great highchairs around that you can choose from but perhaps you live in an apartment or small home  and space is at a premium (most highchairs have a large  footprint, plus you don't want to kick your toes every time!), perhaps you are short on storage space and need something more compact, perhaps you are on the road a lot and need the highchair to go with you and be lightweight and portable, or perhaps you just don't want one of the large sized highchairs that are in store and want something with a more minimalist look and feel.
This is where the new Mountain Buggy pod comes in  and was created to help parents solve these problems in one easy to use, neat and petite portable highchair.
I love the idea of the pod. It is very compact, only 31 x 34 x 4cm when folded in its carry bag and weighs just under 1kg. If you saw it in its carry bag, you probably wouldn't even realise it is a highchair at first. The size of the pod makes it ideal for traveling and popping in the suitcase. It is perfect for on the road, especially when there is no highchair or when they are dodgy looking highchairs that have left over food from the last child!.
The  design simple makes it a cinch to use but it is still sturdy and safe, just as you would expect from anything that Mountain Buggy build. I will admit, it can be a bit scary when you think a highchair that doesn't touch the ground will be holding your baby. But the pod is made from a strong aluminium frame  and when Miss S is in it,  the frame doesn't  even move in the slightest!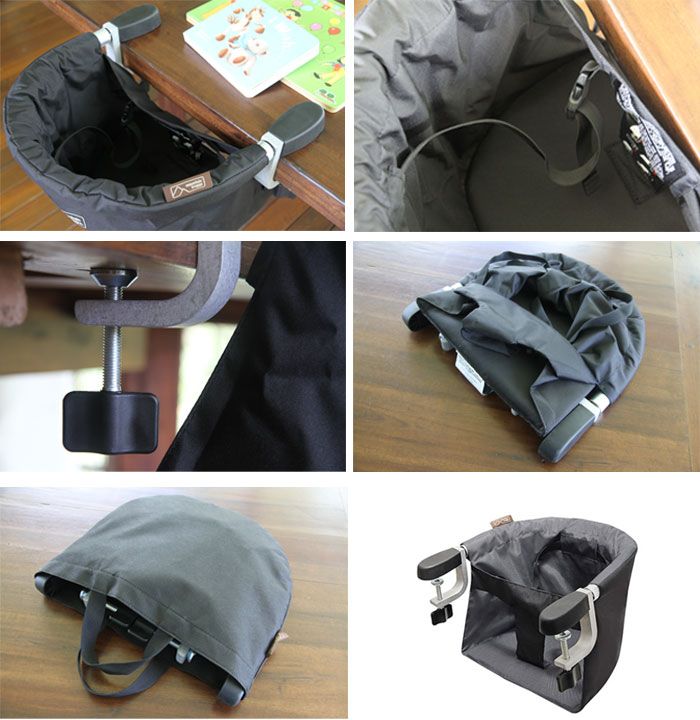 It is nice and comfy for her to sit in, taking a child up to 15kg, and the added safety clip gives you the extra security.  It can also be cleaned fairly easy I found,  as it is wipe friendly nylon type fabric. However it didn't get too messy, as it positions little ones quite close to table, which  I found helped reduce the mess.
It can be perfect for
Trips to the park
Trips to the coffee shop or diner
Campervan/Caravan tables
Cabin accommodation tables
Restaurants
Traveling on the road
Camping
The pod is a great invention and very handy, but I think it is really important to check the table it will be used on first. It can't go on glass tables and it can't fit on a table that has the wooden frame under the edge (unless the frame is quite far under the table or it is an extension table ). We used it on the table in our house that has an extension on the end and gave us plenty of room to attach it. Lastly the table we used it on is very heavy and I think  it is important to keep in mind the table you are going to put it on and if it can take the weight of the child and high chair once attached.
Overall I was really impressed with the Mountain Buggy pod and it is a great to have the option to be able to use a highchair anywhere and at anytime. Plus the space savings benefits speak for themselves! It get 5 stars!
Would you love to give the pod a go?
(THIS GIVEAWAY IS NOW CLOSED)
Thanks to Mountain Buggy we have 1 fantastic pod up for grabs!
Simply follow the instructions in the Rafflecopter form below -
*You only need to complete the mandatory entry/entries (and as per Terms and Conditions be a Divine Finds email subscriber) to be in to win.
*Extra entries are optional, and support the sponsors and Divine Finds
* Have fun, thanks for supporting Divine Finds, our sponsor and good luck!
Disclosure: This is not a sponsored post and no monetary compensation was provided nor offered. A complimentary Mountain Buggy pod was supplied and all views, opinions and impressions of the review item are my own, based on my personal experience with the item.Permit LTP 12/00624